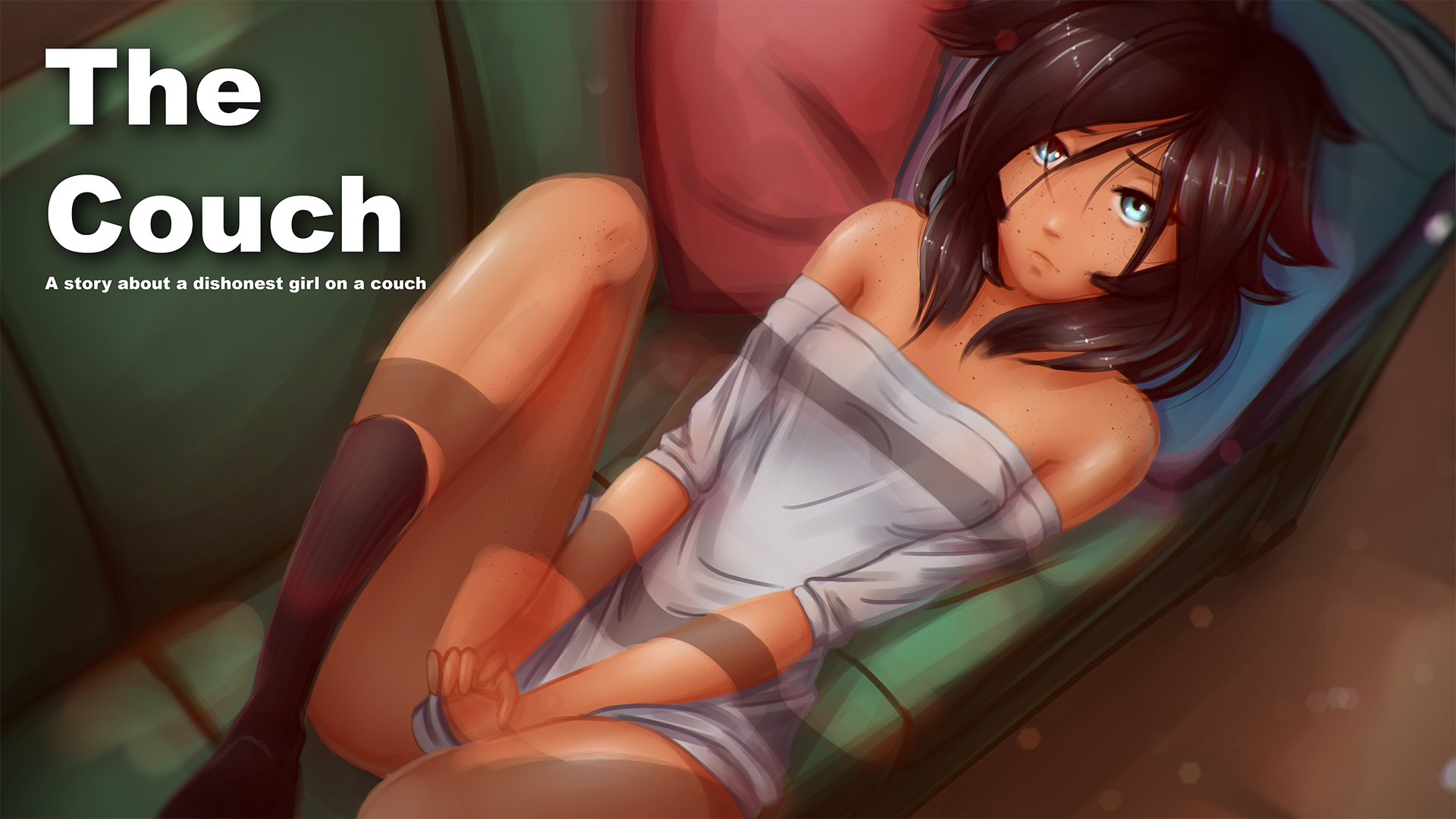 The Couch (Sample Demo)
"The Couch" Launch and Feedback on New UI
---
The Couch launched roughly two weeks ago and we've reached over 1000 downloads on itch, and 45,000 with a 3.61 rating onNewgrounds at the time of this posting. For what is only a mere sample of what we can do this is very promising!

Along with this post we'd like to post our first development update and feedback request!
The next update will most be a revamp of what's here as i update the assets and re do the animations with a new animation system in Unity. It will also be the start of adding new UI elements.


And here is a key for the UI that might be helpful and gives some insight into the gameplay we're aiming for:

1. Dialogue Box - Dialogue box may show light text history since dialogue may be constant with both Naomi and the player saying things. Alternatively there could be a button to reveal text history so it can display 1 line at a time with larger text.

2. Strip Clothing- Clicking this button reveals breasts then removes shirt dress much like current button

3. Insert/sex position button - Initiates sex with Naomi

4. During sex opens a submenu to change positions and sex speed Cum limit counter (absent in free mode) During the story mode players can only cum twice before an ending is decided

5. Hand/Pet - Allows players "Pet" Naomi or grab her in various places they select. Can be used during sex animation Selectable areas in diagram below

6. Speak/respond - Presents dialogue choices based on conditions like previous dialogue choice, arousal state, if/when/where where the player has came, if and when naomi has came, or if they came together.

7. Cum - Once the arousal bar reaches the proper threshold the player is allowed to cum making this icon turn white This button brings up a sub menu choosing where to cum

8. Lock Bars - This locks the state of both bars to prevent progress but continue the animation

9. Naomi Arousal - Naomi's arousal bar raises during sex or petting and lowers during inactivity even if the player is still in her Naomi only cums on her own when her bar is max Naomi will cum if the player cums only if it is above the threshold.

10. Player Arousal Bar - Players arousal bar raises during sex and lowers during inactivity even if still inserted Player can cum once above the threshold, but if their bar is max they'll cum automatically and be forced to choose where to cum The player can make Naomi cum by cumming inside while she's above the threshold (this is essentially the goal for the best ending).

11. Settings - Settings features things like volume, enabling full screen, choosing player color, and disabling visual effects.

12. Return to main menu - Confirms if the player would like to quit the current play through.

13. Arousal Threshold - When the bar is past this line it is in the arousal/cumming threshold

14. H speed Slider - The speed of the animation is controlled by this up and down slider

Thanks for any feedback!

And to be able to give us your feedback sooner, do follow or support us on Patreon! And if you haven't already download the current build below!
Get The Couch (Sample Demo)